Aus dem Steelguitarforum:
"I am selling my Schild U12 built in 1993. This guitar has been maintenance-free for 25 years except for an occasional squeaky pull rod, still works fine and is a delight to play. Stainless steel changer, keyless design, with Franklin pedal in position 0. Telonics 128PW pickup installed, George L's E66 as spare. Excellent sustain. Split tuning. Gauged rollers. Raise helper springs adjustable through the endplate.
The body was relacquered a few years ago after some marred edges and corners were fixed, which unfortunately resulted in color mismatches, but which are less visible under normal light than under direct sunlight as in the photos. The case in the photos is fairly light (about 23 kg or 50 pounds with guitar). It is very compact. I also have a heavy flight case that originally came with the steel.
Asking 2400 USD + shipping.
The copedent is not standard U12 in that the 8th string E to D change is on a knee lever (LKR) as opposed to a floor pedal, which I find more convenient.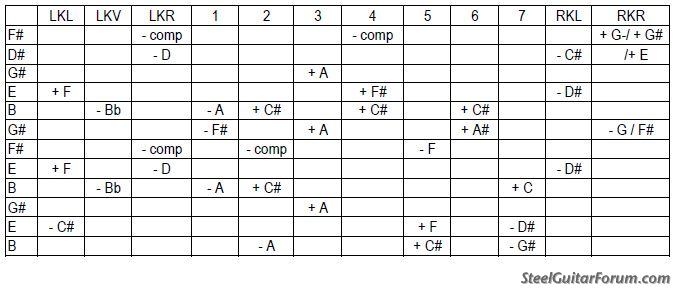 http://www.banjo-tabs.com/misc/walk%20through_mixdown.mp3 is a sound clip I recorded with the following settings on my Nashville 112: bass 4.5 o'clock, mid 9 o'clock, shift 1 o'clock, treble 3 o'clock, presence 12 o'clock. More presence and less bass would have provided a better tone I think.
The Wiesner also made in Switzerland was an exact copy of the 1993 Schild. Here, French steeler Jean-Yves Lozac'h appears to be playing his red Schild U12 on which he put a Wiesner logo for unknown reasons:https://www.youtube.com/watch?v=ZIS_bLljUbI
Here, Lozac'h plays his Wiesner (probably made from left over parts after the death of Paul Wiesner), obviously with different amp / settings:http://www.banjo-tabs.com/misc/Jean%20Yves%20Lozach_Michel%20Ghuzel.mp3
The newer Schild pedal steels (from 2005 onward) are different guitars in both design and tone. I am going out on a limb here, but I think that the 1993 Schild / Wiesner mechanics are comparable to today's US steel guitars. "
Hinweis: Dieses Instrument wird nicht vom Betreiber des Blogs angeboten. Bei Fragen setzt euch bitte mit dem Anbieter selber in Verbindung. Das Hinterlassen von Kommentaren ist mit an Sicherheit grenzender Wahrscheinlichkeit zwecklos, da die jeweiligen Anbieter diesen Blog nicht unbedingt kennen. Vielen Dank.